Kid's Ministry
"Suffer little children, and forbid them not to come unto me: for of such is the kingdom of heaven."
~ Matt 19:14
As a church, we invite children of all ages to be a part of the growing, thriving ministry of our church. With spaces for newborns and toddlers in our nursery and classes for preschoolers and elementary school every Sunday morning, we welcome your entire family to take part in learning and growing towards Christ as a part of our faith community.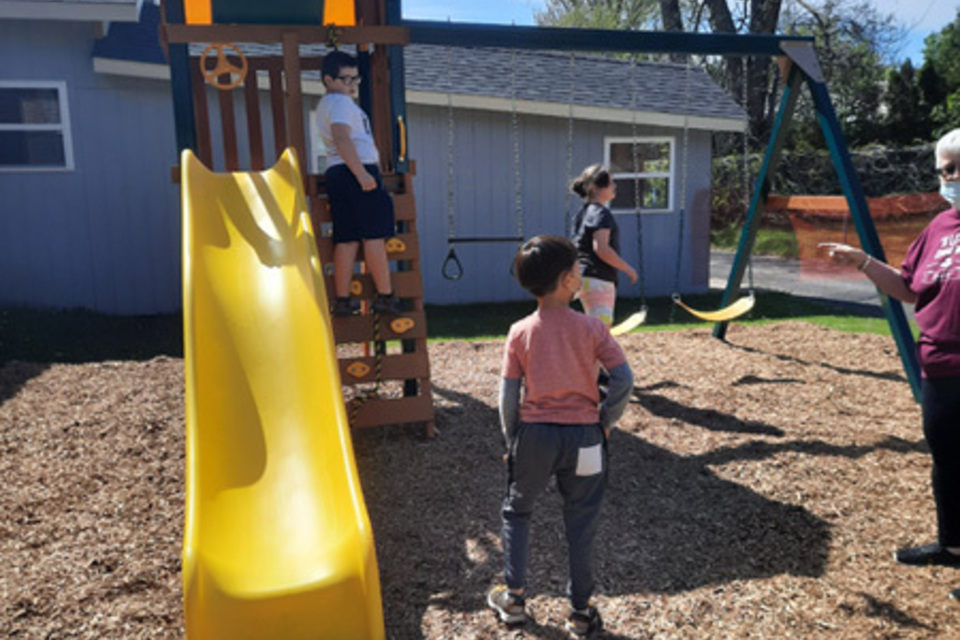 A Little Child Will Lead Them
"The wolf also shall dwell with the lamb, and the leopard shall lie down with the kid; and the calf and the young lion and the fatling together; and a little child shall lead them."
~ Isaiah 11:6
A little Child Will Lead Us, (ALCWLU), is a New Faith Community within the First United Methodist Church. We support parents in the joyful but challenging task of raising young children. ALCWLU offers free childcare on Wednesdays from 3 pm to 6 pm for children 10 and younger at other times through parent cooperation and church support.
Adult Ministry
"For where two or three are gathered together in my name, there am I in the midst of them." ~ Matt 18:20
Our adult ministry centers on gathering as a community around the Word of God and living lives modeled after Christ. The goal of all adult ministries at FUMC is to help challenge participants to live out their faith while impacting others with the power and truth of the Gospel!
Adopt-a-Platoon
First United Methodist Church is sponsoring a deployed platoon through the Adopt-a-Platoon program at Fort Drum. We will be collecting needed items throughout the year to ship to our soldiers stationed in Kuwait. If you would like to contribute non-perishable snacks or toiletries, you can bring them to church. If you would rather donate money for someone else to shop for you, monetary contributions can be given to Shelly Peck. Thank you for your support of this valuable program!
Youth Ministry
"Let no man despise thy youth, but be thou an example of the believers."
~ 1 Tim 4:12
Our student ministry is designed to help middle school and high school students grow their faith, character, and relationships. It's about creating an atmosphere that is Christ-focused where they can belong. We encourage our youth to be involved in everything we do from inviting to participating in activities and serving.
Missions Update
Red Bird Mission Journey A small group of missioners from First and Asbury UMCs spent Holy Week in a somewhat different manner this year, acting out their gratitude to God by reaching out to those in need of the hand of Jesus working in their lives. Driving from Watertown the team bonded in sharing their thoughts during the drive and during the time spent overnight at a United Methodist camp in East Ohio, where some renewed their friendship with Julie Laut, former director of Camp Aldersgate.
Arriving at Red Bird Mission, located in southeastern Kentucky in one of the poorest zip codes in the country, we were warmly greeted by the staff, directed to our dorms, given an orientation, and provided with a delicious meal. On Monday morning we were introduced to our staff leader, a delightful young man named Elzie, who supervised us all week. Our project was to build a deck and a back "stoop" for a 65-year-old woman and her 42-year-old son who was disabled from his years in the coal mines. They have a trailer on the side of a hill (everything there is on the side of a hill!), with no safe means of exit. There was a 6-foot drop out the front door, and a set of concrete blocks set up as "stairs" at the back. The mission provided all of the material and equipment needed, Elzie provided the "know-how", and the team provided the labor! It was hard work – digging post holes in clay is not easy – but ever so satisfying as we watched the deck and then the stoop materialize. We were able to meet both Norma (who works at the mission) and Kevin, who joined us in prayer and worked with us every day. Both were delighted with their new safe exits and especially the deck where they can enjoy the view of the mountains.
The team was evenly divided between veterans and first-time missioners; both experienced the joy of working in a different culture, watching a project reach completion, and most of all forming a relationship with Elzie as well as with Norma and Kevin. First-timers are already talking about a return trip and enlisting others to join them!
Meet our missionary, Mrs. Florence Mefor
For the past several years, we have provided support to "our" missionary, Mrs. Mefor, who is a missionary with the Board of Global Ministries of The United Methodist Church assigned to Mutambara, Zimbabwe, utilizing her skills as a nurse mid-wife. A native of Abatete, Nigeria, Florence became a registered midwife following studies at the School of Midwifery in Awgu, Nigeria. She earned her nursing degree from the School of Nursing in Jos and spent 14 years nursing at the Evangel Hospital in Jos, which is in Nigeria's Plateau State. Florence served at the Chicuque Hospital in Mozambique from 1999 to 2003, and in her home country with the UMC Rural Health Program from 2003 until late 2006. Before her commissioning as a GBGM missionary, she served at Chicuque as a person in mission (PIM) through the GBGM's Global Mission Partners program.
Florence is married to Dr. Emmanuel U. Mefor, also a GBGM missionary. They have graciously hosted many UMVIM teams, including from our Annual Conference. Among her most cherished accomplishments, Florence set up a feeding program for pregnant women living at the mission while they await the delivery of their high risk babies. This proved so successful in improving outcomes of pregnancy that it was adopted as a model by the government to be implemented at other hospitals! She also assists her husband in other aspects of care at the hospital, especially operative care of patients with eye disease.
Florence describes her mission as follows: "God's mission is being carried out as numerous women and children are being cared for and given higher chances of survival," she says. "My ministry is to help save lives, improve failing sights, and general well-being of patients," Florence shares. "God's hands are at work – recently patients with severe diarrhea and shock from an area of epidemic were rushed in for treatment. Their survival was miraculous because their recovery was not due to our nursing expertise. A child of seven years had a snakebite and it was five days before he got to the hospital. He had a clotting deficiency and was bleeding from every point. God was so merciful as on the fourth day he was up and about."What a joy it is for our congregation to be a part of this work! Praise God